As I did explain in my Year In Review post, the music selection this year wasn't exactly as good as we had hoped. I'm sure many would consider our music at this time to be at an all time low (not a Jon Bellion reference). But while we did get a lot of shitty music this year, we also got a load of good songs. So at this time, I will be counting my Top 45 songs of this past year. These songs are the ones that stood out the most to me while being surrounded by a sea of not-so-good music. But before we get into the list, I do have some things I want to cover first. So let's start by going over the rules and requirements for eligibility for this lists.
1) Only songs from the Hits 1 Weekend Countdown are eligible for this list. If it spent at least one week on the countdown within 2016, it is eligible. Songs that were on Hit-Bound w/ Mikey Piff, Hits & Misses w/ Pete Wentz, or the YouTube15 w/ Jenna Marbles, but not the countdown, are not eligible for this list.
2) No songs from previous year-end rankings are eligible from this year's rankings. That way it'll be 45 new songs and there will be no repeats from last year or any year before. I'll admit that I did kind of prematurely rank Justin Bieber – Sorry last year. I probably could've ranked it a little higher this year. Also, I did place Taylor Swift – Out Of The Woods in the year-end list for 2014, which was when it spent that one week on the countdown. Unfortunately because of that, it's not eligible for this year's rankings. I think those two were the only big ones.
3) Songs that debuted in late December are not eligible. The cutoff date for eligible songs was the week of December 10, 2016, making Lady Gaga – Million Reasons, John Legend – Love Me Now, James Arthur – Say You Won't Let Go, and Charli XCX – After The Afterparty the final songs eligible for 2016. The reason I do this is to prevent prematurely ranking songs that could very well be much bigger in 2017. If I rank them this year, I won't be able to rank them next year. So I do keep that in mind as I select songs to rank this year. The following songs debuted a little too late for this year's rankings, but will be looked at first for consideration for the Top 45 Songs of 2017.
Zayn/Taylor Swift – I Don't Wanna Live Forever
Steve Aoki/Louis Tomlinson – Just Hold On
Now that we got those rules out of the way, I'd like to go through all my honorable mentions for this list. They're the songs that came very close, but just didn't make the cut for this countdown.
Ariana Grande – Into You
Conrad Sewell – Hold Me Up
Drake/WizKid/Kyla – One Dance
Ellie Goulding – On My Mind
Fifth Harmony/Fetty Wap – All In My Head (Flex)
Flume/Kai – Never Be Like You
Gnash/Olivia O'Brien – I Hate U, I Love U
Grace – You Don't Own Me
Jacob Whitesides – Lovesick
Katy Perry – Rise
Martin Garrix/Bebe Rexha – In The Name Of Love
Meghan Trainor – Me Too
Nick Jonas/Tove Lo – Close
One Direction – History
Panic! At The Disco – Victorious
Shawn Hook – Sound Of Your Heart
Shawn Mendes – Treat You Better
The Strumbellas – Spirits
Timeflies – Once In A While
Twenty One Pilots – Heathens
Zara Larsson/MNEK – Never Forget You
Out of all those songs, there is one in particular that I am purposely not ranking this year because I can see the potential it has to be successful in 2017. If I ranked it this year, it probably would've been ranked pretty low, which is why I'm deferring it until next year when it could potentially be ranked a lot higher.
Finally, let's rewind to last year for a minute. Here are my Top 5 Songs from 2015:
5. Ellie Goulding – Love Me Like You Do
4. The Weeknd – The Hills
3. X Ambassadors – Renegades
2. Hozier – Take Me To Church
1. David Guetta/Nicki Minaj/Bebe Rexha/Afrojack – Hey Mama
Alright. I think I've covered everything I needed to cover. We're now ready to jump right into the list. I'd like to reiterate that everything you're about to see are my own opinions. These are my favorite songs of the year. You may not agree with them and that's perfectly fine unless you try to start an argument with me. My picks. Not yours. So with that, let's get right into the list with #45!
45. OneRepublic – Wherever I Go
We haven't heard from OneRepublic ever since singles from Native were being overplayed on the radio. Wherever I Go was released very unexpectedly and from the first listen, I knew this would be a keeper. It is a lot different than what we've heard from these guys before. But Ryan Tedder's vocals are just top-notch in this song. From the raspiness in the pre-chorus to the high notes in the chorus, he sounds really good all throughout this song. The instrumentals behind his vocals sound really good as well. I love the chorus. This song may be short, but it is very enjoyable from beginning to end.
44. Demi Lovato
– Body Say
As I've said before, this song is pretty much my sex anthem of the year. That being said, I don't know how Hits 1 thought this song would be appropriate for a family station. Even though some of the lyrics were changed around, the meaning of the song is still there. It's a full-on sex song and for a song that was kind of a flop just about everywhere, it lasted quite a while here on Hits 1. It's definitely a really fun song and I think it kind of sets the mood for sex. Demi Lovato's vocals sound really good. Overall it's a catchy song that I still consider to be my sex anthem of 2016.
43. DNCE
– Body Moves
And here we have another sex-related song. Joe Jonas really did make a comeback this year with his new group, DNCE. They've been nominated for several new artists awards and their debut album came out not that long ago, with Body Moves as the lead single. This one is a lot more upbeat than Body Say and it's a really fun song. It may not have been that big of a hit, but I still think it's a win for this group. And if you want a good representation of what the song is about, I recommend you go watch the music video. Just know that Joe Jonas does get shirtless, which I think is very nice to look at. But fun song overall.
42. Charlie Puth/Selena Gomez
– We Don't Talk Anymore
Of course after See You Again by Wiz Khalifa was a massive hit, it's no surprise that the featured artist, Charlie Puth, would soon become the next big thing. I was on board with him even through Marvin Gaye as much as I did not like Meghan Trainor. One Call Away was a definite disappointment. Then came We Don't Talk Anymore. I gotta say, Charlie Puth redeemed himself. The big thing I love about this song is the tropical vibe. Sure, 2016 was full of songs with tropical influences, but I thought this one worked out really nicely. This song is not as slow and boring as One Call Away. Sure, I can understand why people would consider We Don't Talk Anymore to be boring. But I just find it fascinating. Charlie Puth sounds really good. Even Selena Gomez, whose music I have not been enjoying this year, sounded good on this song. Both of their voices go good together. I thought this song was really good and while it wasn't as successful as One Call Away, it will always be the better song.
41. Pitbull/Osmani Garcia/Lil Jon
– El Taxi
Pitbull
has certainly had an interesting year this year. He brought us three songs, with El Taxi being the first of the three and frankly, the best of the three. I can't understand over half of this song. Pitbull has a couple of verses in English. But regardless, it is a catchy song. I really like the beat to it. It's also something different than what we usually get on the countdown, especially from Pitbull. I think Hits 1 realized how odd the song was for a Pitbull song, which is probably why they kicked it out after only three weeks. But I enjoyed it and I was saddened by its early departure. I mean, who doesn't want to hear a song about a taxi? Oh and Lil Jon does actually make this song more interesting. While he is annoying most of the time, his random yells in this song are actually kind of funny. Like I can't help but smile every time I hear "EL TAXI!" I don't know how or why Hits 1 picked up this song, but I'm glad they did.
40. Shawn Mendes/Camila Cabello
– I Know What You Did Last Summer
From late last year, we have the Shawn Mendes duo with former Fifth Harmony member, Camila Cabello. Shawn Mendes has always been one to include some actual instruments in his music, which very well shows in this song even more than it shows on some of his more radio-friendly singles like Treat You Better. I also really like Shawn Mendes' voice. I think it's very unique and it blends very nicely with Camila Cabello's voice. The two of them harmonize very nicely all throughout the song. Overall, great instrumentation and really nice vocals. I did see them perform this song live at the iHeartRadio Jingle Ball last year. That was pretty enjoyable to watch. But yeah. Not much else to say about it.
39. Big Gigantic/Angela McCluskey
– The Little Things
This song definitely got some mixed reviews within the blogging community. I really enjoyed this song and I still do. It's loud, it's fun, it's energetic. Sure, the vocals could've used some work. But the beat, the build-up, and the drop sound really good. I can understand why someone would dislike it. The unedited album version of this song is almost five minutes long and it's a pretty repetitive song. The instrumentation incorporated into this song sounds really good. It's a song that just makes you want to get up and move, even if you're not full-on dancing to it. Like I said, I love the drop and it's not something mediocre like This Is What You Came For. It's fun and it's catchy. But of course a song like this only lasts three weeks on the countdown, which is pretty annoying. Overall, I understand why those who dislike it dislike it. But me personally, I just love this song and can't help but move to it.
38. One Direction
– Perfect
After having lost former member Zayn Malik when he left the group to go solo, One Direction released Made In The A.M., their first album as a four-member group. Perfect was the second single and was arguably the best performing single on Hits 1. This song unfortunately did not do so hot in areas such as the Billboard Hot 100 as it just barely made it on to the year-end list. But with Hits 1 and their love for One Direction, it was very successful here. I've said this before and I'll say it again. I think One Direction is better off without Zayn. I never really liked his voice. I thought he kind of held One Direction down a little. Now that he's no more, their songs are getting even better and this was one of those standout songs. The vocal work on this track is very well done. Harry Styles handles that chorus very nicely. Like I said, they're better off without Zayn, especially with how much of an asshole he's been this year. They don't need that kind of negativity.
37. Major Lazer/Justin Bieber/MØ
– Cold Water
I was definitely looking forward to the release of this song. I've enjoyed Justin Bieber's music this year and I really liked Major Lazer and MØ's previous collaboration on Lean On. Before that Major Lazer did actually have some shitty songs like Bubble Butt. But I have disregarded their past because Lean On was a good enough song to make up for it. With Cold Water, it certainly does not top Lean On. The drop isn't as amazing as I imagined it to be. But it's still catchy and it's still something I can get down to. Justin Bieber sounds really good on the track and he handles the chorus nicely. I'm not too impressed by what MØ has to contribute. Her verse isn't awful, but it's something I could probably live without. But with all that, it's still a fun song and it definitely deserved to be successful. It may not have been as good as Lean On, but topping your best work isn't always easy and this was certainly a good attempt at doing that.
36. Halsey
– New Americana
This is one of those songs that I'm sure is showing up in some people's worst of 2016 lists. Thankfully, this is my list and I'm entitled to my own opinion. I think Halsey is a talented individual. She has a very good voice and it shows on New Americana. Frankly, I think it's a much better song than Ghost from 2014. That one just wasn't anything special. But I've enjoyed New Americana a lot. Sure, the lyrical content may not contain the best writing you've ever seen. But regardless, I still really like her voice and I like the production. People probably oftentimes dismiss her as the artist featured on what many consider the most overrated song of the year. But she is much more than that and has some much better solo music. Maybe not this song. But she does have some other really good songs on her album, Badlands.
35. Rudimental/Ed Sheeran
– Lay It All On Me
Despite Ed Sheeran's music being heavily overplayed last year, he still managed to show how talented he is on this track with Rudimental, who have only made one other countdown appearance back in 2012 with Feel The Love featuring John Newman, a song that I really enjoyed and still hear every now and then on Venus. Lay It All On Me just goes to show how Rudimental are still very good producers and how Ed Sheeran is a talented singer. It's not some raging EDM anthem. It's more of a calm song and it's something I could actually consider a "chill song". It's not like The Little Things where it's loud and all in your face. But it's also not generic and mediocre like This Is What You Came For. It's a really good song and I wish it had more success in the United States. But of course us Americans underrate the good songs and overrate the trashy ones like Broccoli and Juju On That Beat, two songs that were successful only in the United States.
34. OneRepublic
– Kids
OneRepublic
continue to impress me with their new singles. This song is a lot different than Wherever I Go, but it's still really good and as you can tell, it's even better. Some people may not be a huge fan of the new OneRepublic and I can understand why. This song was obviously not as successful as Counting Stars, Love Runs Out, and the other singles from Native. But the part that I love most with this song is the chorus. Ryan Tedder really shows off his voice and what he can do. I love the production that was done. Overall, it's a really cool song that deserved to be more successful outside of Hits 1. Sure, it's nowhere near their best (Apologize). But I take any OneRepublic song that is not heavily overplayed like Counting Stars. This one was a win in my book. Also I recommend that you guys listen to their new album, Oh My My. I think it's really good.
33. The Weeknd/Daft Punk
– Starboy
This man landed himself two spots in the Top 10 last year with Earned It (#8) and The Hills (#4). He's certainly one of the most talented new artists we've had these past two years. Despite songs like Can't Feel My Face being heavily overplayed, some of his songs do stick, the biggest one being The Hills. This year he released the follow-up to Beauty Behind The Madness, Starboy, which features the lead single of the same name landing at #33 for 2016. I gotta say, the production on this track really grabs my attention. I love the chorus with those background vocals and the "I'm a motherf**king starboy!" The Weeknd does a nice job on the vocals and Daft Punk did a really nice job on the production. It's nice to hear from Daft Punk again after 2013's Get Lucky. They're definitely a very talented duo that deserve more recognition. Overall, Starboy is a catchy song and I have yet to get sick of it. So that's nice.
32. Ariana Grande/Nicki Minaj
– Side To Side
Ariana Grande
has had a little bit of a big year this year. She had three hit singles. Into You was close to making it on here, but didn't quite cut it unfortunately. Side To Side is pretty much my favorite of her three singles this year. She is a really good singer and her voice shines throughout this song. The reggae-pop production sounds really cool. I always have that chorus in my head. This song is easily infectious and catchy. I love Nicki Minaj's verse. I gotta say, if you start rapping about a dick bicycle, you've pretty much grabbed my undivided attention. Minaj's verse easily gets stuck in my head as well as the chorus of this song. I think this song is a definite win for Ariana Grande. It's a whole lot of fun and if this were to come on at a school dance or something, I would get down so hard. Overall, it's a lot of fun.
31. Panic! At The Disco
– Death Of A Bachelor
It took me a while to realize this, but Brendon Urie is the only member left of Panic! At The Disco. When I realized that I was joking around saying that they should change their name to "Brendon! At The Disco". No? Not funny? Okay. Anyway, while I was awaiting the album's release, I was actually hoping this song would get released as a single. It may not have been officially released as a single, but Hits 1 picked up on it. So I'm happy about that. It's a very good song. The jazz production sounds really good. Brendon Urie sounds amazing in the chorus, especially that last chorus when he hits the high notes. It gives me chills all over. He's easily one of the best vocalists I've ever heard. My mom actually did not like this song at first because she thought it was boring. But my dad, my brother, and I all agree that it's a very good song and win for Brendon Urie and Panic! At The Disco.
30. DNCE
– Cake By The Ocean
Next we have the first and best single from DNCE, Cake By The Ocean. At first when it was trending on the YouTube15, I thought it was a strange song (partially because of the title). I honestly did not see this song being as successful as it was. After it debuted the countdown was when I started to realize that it's a really cool song. It's a whole lot of fun. That chorus is loud, but catchy. I'm constantly singing it to myself. Yeah, it got overplayed like crazy. But it did not take long for me to grow back into it. It's a song I just can't get enough of. Joe Jonas carries the vocals very nicely and I really like the production. Hits 1 did rank it pretty high giving it four weeks at #1 and the #2 slot in their year-end Top 45. But I'm not complaining because I am enjoying this song like I was back when it was starting to get popular.
29. Troye Sivan
– Youth
Don't you just love when you know about an artist before they become really popular? That's kind of what happened here with Troye Sivan. I used to watch his YouTube vlogs all the time. Then he started releasing some music that I was really enjoying. And then of course, Youth comes around and I did not see it becoming as successful as it was. I felt very proud when I saw this song debut the Weekend Countdown. His songs actually do have meaning behind them unlike a lot of pop songs we get nowadays. His voice is very unique. I was very pleased to see this song do as well as it did. Troye Sivan is a talented artist and deserves as much recognition as he can get. Plus, he's pretty cute. But that's just a bonus.
28. All Time Low
– Missing You
All Time Low
is one of the few rock bands Hits 1 actually picks up music from. I thought this song was pretty mediocre at first. There wasn't really anything standing out about it. But soon after repeated listens, I came to realize that it's actually a really good song. It's one of those songs that just puts me in a good mood from listening to it. Because All Time Low is a rock band, they do have very good instrumental work in their songs. The vocals are really good as well. I like the lyrical content. While the song may not have been as successful as Something's Gotta Give from last year, it's a good follow-up, despite Missing You not even being released as an official single. It did rather poorly on this countdown, which is very unfortunate. But considering that this countdown is supposed to be the 45 biggest songs in North America, it really doesn't surprise me that this song didn't do so hot. But at least it was on the countdown at some point, making it eligible for this year-end list. It may not be that well-known. But I love when Hits 1 picks up these songs that I wouldn't hear elsewhere. It gives me some new music to enjoy.
27. Runaground
– Chase You Down
Speaking of songs that I wouldn't hear elsewhere, we have this song. I did some research on who Runaground is because he's very talented. His birth name is Andrew Kirk and he's an American electropop artist, producer, and singer-songwriter. That along already makes this dude because I don't know anyone else that does all of that and does it well. He even got his start on YouTube, like a lot of other artists we have nowadays. With Chase You Down, the production is very good. It's very catchy. I love the beat all throughout the song. And the vocals are amazing on this track. Sure, Calvin Harris sings on some of his songs, but they don't sound that good. Runaground's vocals sound amazing. I even had to make sure that it's the same dude singing because it's not everyday you hear a DJ produce AND sing very well. Sometimes I even forgot that it's the literally the same two verses being repeated over and over again throughout this song. The repetition ends up not mattering because everything else makes up for it and makes it not so noticeable, at least to me. I sure hope to hear from this guy again in the future because he is talented. If you have not listened to this song, I recommend it.
26. Sia/Kendrick Lamar
– The Greatest
Let's be honest here, Cheap Thrills was easily one of the most overrated songs of the year. For a song that never even hit #1 on this countdown, it was very overplayed. But when Sia's music is not overplayed, it actually ends up being really good. She is definitely one of the most talented artists we have today. I'm sure we all know how she was a songwriter and actually some of our favorite songs from previous years including songs like Rihanna
– Diamonds
. But on top of being a good songwriter, she's a really good singer. Really quickly before I get into the song, I'd like to bring up our America's Got Talent winner this past season, Grace VanderWaal. Those of you that have heard her voice a lot, I want to know if you think there's any resemblance between her and Sia. If you listen to the verses of The Greatest, in a way it sounds like something Grace would be able to sing. Now I realize that I wrote a lot and haven't even talked about the song, so I'll make it short. Vocals are really good. Obviously there's great lyrical content. I like Kendrick Lamar's verse. Overall, it's a really good song and yet another reason as to why Sia is very talented.
25. Kenny Chesney/P!nk
– Setting The World On Fire
Not a big year for country music on Hits 1. I'm pretty sure this was the only country song this year. Kenny Chesney is always seemed like another one of those country artists that I don't really care about like Jason Aldean. But by having P!nk as a featured artist, you easily grab the attention of her fans, and that includes me as I'm a fan of P!nk. I didn't really care for this song at first because it seemed kind of mediocre. But I grew into it so quickly and I've been enjoying it for the past few months while it's been on the Weekend Countdown. Shockingly, it's still there. I did not expect it to last as long as it did. But I'm happy because it's a good song. For the most part Kenny Chesney does a nice job on the verses. He has a good voice then. When he sang the last chorus, his voice did sound a little flat to me. But thankfully he doesn't sing every chorus. Instead that's where P!nk comes in with her amazing voice. Country music typically has a very good use of instrumentals and this song is no different. Great vocals for the most part and great instrumentation. And I like to keep an open mind going into country music because a lot of my favorite songs are country songs. But I remember Homecoming earlier this year and the theme was Wild West. At some point in the week they were playing all country music and of course this song comes on and I can't help but jam out to it and have fun with it. It's a very cool song.
24. Taylor Swift
– New Romantics
Despite not lasting very long in areas like the Billboard Hot 100, this song was very successful on Hits 1 spending a couple weeks at #1 and lasting very long on the countdown. And in all that time, not once did I get sick of it. I think it took a while for this song to be released to Apple Music (which is what I listen to). So until it was released there, I never really listened to it outside of Hits 1, which means I don't get sick of it that quickly. But even after I started listening to it very often, I never got sick of it. The chorus is very energetic and very fun to jam out to. Taylor Swift's vocals sound very good all throughout the song. I like the lyrical content. I don't think Taylor Swift has ever actually disappointed me. Sure, her music gets overplayed and songs like Style and Wildest Dreams haven't really stuck with me, but they were still good at some point. As the seventh and final song off 1989, New Romantics ends up being one of the best singles.
23. Elle King
– Ex's & Oh's
Not once did I ever think this song would be a #2 hit on a Top 45 countdown of hit songs. After it just seemed like some random alternative/rock song that was going to just come and go. But soon enough I realized that this song is actually really good. Elle King has one interesting voice. It's very cool and very raspy, which we don't hear enough. Ex's & Oh's has an excellent use of instrumentals being a very folk-like alternative/rock song. This song apparently has a banjo in it somewhere. So like I said, excellent instrumentation. I really like the vocals. Overall, it's just a really cool song that I never thought would be as big of a hit as it was. And that's not the only song we got from this woman this past year.
22. Elle King
– America's Sweetheart
Not long after Ex's & Oh's was a big hit, Elle King brought America's Sweetheart, which in a way is kind of similar to Ex's & Oh's. But this song is a lot more folk and it even sounds kind of country while being an alternative rock song. For Elle King to incorporate this many genres in one song, that is talent right there. I applaud this woman for that. I love the lyrical content and the meaning behind this song saying that she's not going to change for anyone. She is who she is and she wouldn't change that for someone else. She really belts it out in the chorus and once again, shows off the raspy voice she has that I was talking about. It shows off even more in America's Sweetheart than it did in Ex's & Oh's. Once again, excellent instrumentation and the vocals are just top-notch on this song. It's very unfortunate that America's Sweetheart was not as successful as her previous single. But I gotta say, it was (and still is) a whole lot of fun. Whether you like alternative rock music, folk music, pop music, or even country music, you gotta admit that this song is pretty damn good.
21. The Chainsmokers/Halsey
– Closer
The Chainsmokers'
first of two appearances and Halsey's second of two appearances. I'm sure a lot people consider Closer to be the most overrated song of 2016 spending so many weeks at #1 on the Billboard Hot 100. Surely a song like this I would get sick of with it getting so overplayed. But shockingly, I'm not sick of it. Ok, I'm just a little sick of the drop. Just a little. But everything else I still enjoy very much. Andrew Taggart handles the first set of vocals and frankly, he doesn't sound bad. Halsey sounds really good and I love when the two voices come together during that chorus that just will not leave your head. I love the build-up that leads to the last drop and while the last drop may sound no different than it did earlier in the song, it still sounds good with Halsey's voice in the background. These guys made it big even before this song was released. So when it was released, it got to the top of the charts very quickly. But I really enjoyed this song this year and didn't mind it being overrated. But of course, it's not leaving these charts anytime soon. So we'll just have to wait and see what happens.
20. Coldplay
– Adventure Of A Lifetime
It's pretty clear that Coldplay never disappoints. Many have actually criticized their new album A Head Full Of Dreams calling the band sellouts. Me personally, I really enjoyed that album. When Adventure of a Lifetime was first released as the lead single, I knew that Coldplay had another masterpiece of an album. After having listened to it, it may not be a full-on masterpiece. But it was certainly an enjoyable album. After having listened to Coldplay's previous six albums, I had relatively high expectations for how their seventh studio album would turn out. And it's safe to say it exceeded those expectation like always. Sure, Adventure of a Lifetime is no Viva La Vida, Clocks, or The Scientist, but it's a fun song with a very nice vibe to it. It's similar to something you'd probably hear on their 2011 album Mylo Xyloto. It's the kind of song to put you in a good mood. The beat is cool all throughout. I love the production. Chris Martin sounds really good. There's just nothing wrong with this song. Last school year when I was in a Dance 1 class, we had learned several different dances for different styles of dance (ballet, jazz, modern, hip-hop, etc). We actually used this song for our tap dance, which I thought was really cool.
19. Disclosure/Lorde
– Magnets
Looking back on this song, it makes me wonder where the hell Lorde went. We had quite a few singles from her back in 2013 and 2014 when her music started blowing up on the charts. Now in 2016 we haven't gotten any songs from Lorde alone. What got Magnets to be ranked this high is probably the catchiness of the beat all throughout the song thanks to Disclosure, who have proved themselves to be very good producers after Latch featuring Sam Smith, another artist in which I want to know where the hell they are, became a massive hit. They also had another single that never became a hit called Omen, which also featured Sam Smith. I thought that song was really catchy. These two guys are very good producers and I'd love to hear more from them. We can have a sibling duo rivalry between Disclosure and The Chainsmokers to see who are truly the better producers. Overall, Magnets is a catchy song from beginning to end. Lorde does a nice job on the vocals. The music video for this song is a little strange, but it doesn't make the song any less enjoyable.
18. Flo Rida
– My House
Flo Rida
has had a lot of catchy music throughout his career. This includes his two best songs, Right Round featuring Ke$ha and Wild Ones featuring Sia. My House, while being nowhere his best, is one of those songs that's just fun to jam out to. The lyrical content may be pretty dumb. But while being a rapper, he is a pretty good singer too. The beat is pretty cool. The chorus gets stuck in my head and a lot of times I find myself singing along to it. I love that electric guitar or whatever that is that comes in at the end of each chorus when Flo Rida says, "Welcome to my house." I never actually got sick of this song at all, which is surprising with how sick I got of G.D.F.R.. But at this point I don't think I'll ever get sick of this song. It's got that one thing that manages to make the song stick with me. This song was very successful being a #1 song on the Weekend Countdown and I'm happy about that. It's a very good song.
17. DJ Snake/Justin Bieber
– Let Me Love You
People often associate DJ Snake with that 2014 hit that was a lot of people's guilty pleasure, Turn Down For What. That song was catchy, but got annoying relatively quickly. Spending only one week on the countdown, DJ Snake ended not being a very successful artist on Hits 1. You Know You Like It featuring AlunaGeorge was more mediocre than anything with a very repetitive drop and not-so-interesting vocals. But it lasted longer than one week. Then came Lean On w/ Major Lazer featuring MØ, which I'm sure we all know how big of a hit that was. This year he brought his biggest hit, Let Me Love You featuring Justin Bieber. I heard about this song not long after hearing about Cold Water. So I was excited that there were going to be two songs coming that feature Justin Bieber. Let Me Love You ended up being the superior one. Justin Bieber nailed it on this song. His vocals are on point from start to finish. I love the chorus. The drop is really catchy. By having Justin Bieber as the featured artist, DJ Snake easily got himself a Top 5 hit around the world.
16. Justin Timberlake
– Can't Stop The Feeling
Justin Timberlake
really hasn't had that many hits on Hits 1. For whatever reason, they completely skipped over Mirrors, which was one of the biggest songs of 2013. Had the Biggest Whiff of the Year award existed back then, that song would've easily gotten it. However, Hits 1 did pick up on Can't Stop The Feeling and it's safe to say that it was the summer anthem of 2016. This song was the longest running song at #1 this year spending ten weeks at the top. And somehow after all that, I have not gotten sick of it. I don't know how, but I just haven't. It's easily one of the most uplifting songs of the year. It's one of those songs that just puts a smile on my face every time I hear it. It's very fun and energetic. Justin Timberlake did a very nice job co-writing and co-producing as well as on the vocals. Overall, it's still a really cool song. Some people may consider it to be the most overplayed song of the year, and while it may be true, I can't help but enjoy it. I can't stop the feeling!
15. Alessia Cara
– Scars To Your Beautiful
Without competition, Scars To Your Beautiful is Alessia Cara's best single so far. The lyrical content and message behind the song is what carried this song all the way to #15 of 2016. Just recently I decided to listen really closely to the lyrics in the verses and they are really emotional and really moving. She sings about things like depression, eating disorders, and other things that can make a person insecure and not like who they are. Then she hits us with an amazing chorus with incredible lyrics like "You should know you're beautiful just the way you are. And you don't have to change a thing. The world could change it's heart." Lyrics like these just move me emotionally. There are people out there are completely insecure about things they may struggle with like any type of disorder, their weight, their sexuality, etc. Scars To Your Beautiful is the perfect song to tell them that they're simply beautiful the way they are. Everyone is different. It's our differences that make up the diversity of our country. Scars To Your Beautiful is one of those songs that helps you accept those differences by telling you you're beautiful the way you are. It's like a modern-day version of Beautiful by Christina Aguilera, which also discussed issues of self-esteem and insecurity. I consider this song to be one of the best self-empowerment songs of the year and possibly all-time. Alessia Cara sounds amazing from beginning to end, especially when she hits the high note. Overall, amazing song. Glad to see it's her best performing single on the Weekend Countdown.
14. Rachel Platten
– Stand By You
Rachel Platten
has been all about self-empowerment. Fight Song from last year was a self-empowerment anthem and her follow-up, Stand By You, follows in those footsteps. This song was doing rather poorly on Hits 1 at first. But soon enough it peaked at #2. It could've potentially hit #1 if Charlie Puth
– One Call Away
hadn't blocked it out of that spot. But Stand By You did end up being Rachel Platten's best performing single on Hits 1. I love that powerhouse chorus. She has a very beautiful voice and it shines all throughout this song. I love the lyrical content. Rachel Platten has been a really good writer. The song was produced very nicely. And again, I love the message of the song. This is self-empowerment music at its best. Great vocals, great production, great lyrics and message. What more can you really ask for in a song? Me personally, this is my favorite song Rachel Platten has released so far. Many many associate her with Fight Song, but I will always remember Rachel Platten as the artist that brought the amazing Stand By You.
13. The Chainsmokers/Rozes
– Roses
The Chainsmokers
obviously had a very big year in 2016. But remember #SELFIE from 2014? The song that kind of made it big, but soon got well forgotten? Yeah, this is the same duo from that song. Hard to believe that they went from a guilty pleasure type song that could very well by considered annoying to a fantastic song that is easily one of the best EDM songs of the year. Roses was one of those songs that I just did not expect to be such a big hit. But I'm glad that it was because it is a fantastic song. I really enjoy the beat that comes in the first verse that soon leads into the chorus that doesn't leave your head that easily. Rozes may not have been the best vocalist for the job, but I love when the beat drops and her voice just comes in several times. I think that sounds really good and was well thought out. I can understand why some may find that part annoying and it's a little bit of a risk to do that. But in Roses, it definitely worked out nicely. But after the song is over, it isn't long until I'm singing, "Say you'll never let me go." Everything about this song was just done right. It's an undeniably fun and catchy song that one can certainly get down to if this were to come on in a club. Roses is easily one of the best dance songs of 2016 and The Chainsmokers' best single of the year.
12. James Bay
– Let It Go
Whenever I refer to this song, I have to acknowledge that it's the song by James Bay and not the song by Idina Menzel from Frozen. That song was very overplayed even though it wasn't a massive hit on radio stations. But I just always heard it somewhere and at some point, it was exhausting. Let It Go by James Bay is much better. However, those that have been with me early this year, you'd know that I found Let It Go to be rather mediocre at first with nothing to it. I felt that it was very boring at first. But with time and more listens this song really grew on me. Sure, James Bay does not sound good performing it live. But the regular album version still sounds very good. He certainly has a good voice if he uses it well, which he did successfully with Let It Go. The instrumentation on this track is very good. It's a very acoustic kind of song, which is a nice find every now and then after being surrounded by all these raging pop songs. While this song is a pretty much simply a guitar the entire song, it seems like a very good song to attempt on the piano. Reason I say that is because I've seen a lot of covers of this song with the use of a piano instead of a guitar. But this certainly is one of the easiest songs this year to do a cover of, or at least I think it is. One cover in particular that I really enjoyed was the one by Madilyn Bailey which she posted on YouTube early this year. But back to the actual song, I like the instrumentation, vocals, and lyrical content. Some may consider this song to be boring. I consider it to be different. And there's nothing wrong with being different.
11. Lukas Graham
– 7 Years
This band had two songs on the countdown this year. One amazing song and one shitty song. 7 Years is a very beautiful song about life pretty much and getting older. I didn't really see the appeal of this song at first. But after I started to listen to the lyrics and really process them, it started to make sense. The song was produced very nicely and goes very well with the song's lyrics and message. Basically, this song is about the life of the band's frontman, Lukas Forchhammer. He sings about life as he gets older and how he realizes how important being a father really is. But one of the ways I view 7 Years is that the song goes through someone's life (from 7 years old to 60 years old) pretty fast. That's kind of what life actually feels like. Life goes by pretty quickly and it's important to make the most of it. As we reach the climax of the song, it sounds incredible with Forchhammer's vocal climax. In their follow-up single, Mama Said, it just didn't work when he attempted it again. It sounded annoying and out of place. But with 7 Years, it's pretty much that moment we've been waiting for throughout the whole song. It sounds amazing and then he takes us back down to the very first verse of the song starting with "Once I was seven years old", which I love when artists do that. It's as if he told us a story with this song. That's what 7 Years feels like. It's pretty much a story and frankly, those kinds of songs are the best kind of songs. Mama Said is just a mess all around, but 7 Years actually has something to it that makes it one of the best songs of 2016. Anyone that dislikes this song may not fully understand the lyrics and the story behind this song. But overall, fantastic song as it is easily one of the best written songs of the year.
With that, we will now be entering the Top 10. These ten songs are the songs that stood out the most within 2016. Sure, some of the songs we've already gone over stood out a lot, but these ten songs stood out just a little bit more. So let's get into the Top 10 starting with #10.
10. G-Eazy/Bebe Rexha
– Me, Myself, and I
The rap music this year has been very shitty, which unfortunately isn't anything new. I know, sad. But it is what it is. However, Me, Myself, & I is not like any other rap song we've heard this past year. It's easily the one rap song that stood out the most. Fun fact, I actually did not like this song at first because I thought Bebe Rexha voice was very annoying in the chorus. But that's kind of how I feel about everything Bebe Rexha's been involved in (besides Hey Mama). She just has one of those voices that you may not really like until you give it some time. Another fun fact is that this song was actually originally Bebe Rexha's with the title "I Don't Need Anything". However, her label felt that it didn't fit the style of her upcoming album. So then she asked G-Eazy is he'd be willing to do the song with her and he accepted and the song soon became Me, Myself, & I. The song is very dark and deep for a rap song. G-Eazy's verses flow very smoothly. I really enjoy the chorus and it fits in very nicely. G-Eazy and Bebe Rexha seem to be a very good duo and I wouldn't mind potentially hearing another song from these two. They are very talented artists. Like I said, this is easily the best rap song of the year. In the sea of trashy rap songs, somewhere we found Me, Myself, & I and I'm glad we did. It is an amazing song.
9. Jon Bellion
– All Time Low
Beautiful Now
by Zedd featuring Jon Bellion landed itself at #12 for my Top 45 Songs of 2015. Ever since, I've wondered if we'd ever hear any solo music from Jon Bellion because he is certainly a talented singer. That's when he released his debut album, The Human Condition, earlier this year and I have to say, it is one of the best albums of the 2016. If you really like All Time Low, I suggest you take my word for it. Fun fact: All Time Low was actually written two years by Bellion and he fought to make sure it would be the lead single from The Human Condition. I'm sure he's very impressed to see how well this song is doing. It's currently #7 on the iTunes chart and it is rising on the Billboard Hot 100 as well. Like I said, Jon Bellion is a very good singer and he shows off his voice a little bit on All Time Low. But what I love most about this song is that it's not your average pop song. It's different than we normally hear and different is almost always good. As you an artist, something you want to be able to do is stand out. You want to be able to stand out from the rest so that people will actually be able to notice you. That's kind of what Jon Bellion has done with The Human Condition and All Time Low. The song stands out from your average Top 40 hit and look where it is now. It's getting pretty damn successful. Aside from that, I love the production on the track, which was actually handled entirely by Jon Bellion alone, which I think is impressive. I think the chorus is really cool and while it may seem very repetitive with the word "low", it's very catchy. I also really like the lyrical content as he discusses the emotional issues that are faced after a break-up. So it seems pretty relateable. Overall, it's a really cool song and I'm glad that it's getting the success it deserves.
8. Fall Out Boy/Demi Lovato
– Irresistible
I actually considered putting this song in my Top 45 last year. But I ended up deferring it to 2016 in case my opinion changed and I'm glad I did that. I would not have ranked Irresistible this high last year. And shockingly, I did not get sick of this song like I did with Fall Out Boy's previous singles, Centuries and Uma Thurman. Maybe it was Demi Lovato. She certainly contributed a lot to this song and I really believe that she was the perfect pick because of her powerhouse voice. I'm very glad that Fall Out Boy decided to re-release as a single with her featured in it. The original version is good too, but not as good. I love Demi Lovato's voice and I thought she did an excellent job on this song. I really like some of the instrumentation, specifically the what I think is a trombone. The production is really cool. Patrick Stump's vocals sound really good and they blend nicely with Demi Lovato's vocals. The verses flow very nicely, with the chorus then blowing up in your face. It's a very cool song from Fall Out Boy and definitely one of my favorites. I really enjoyed their Save Rock and Roll album. American Beauty/American Psycho was okay. But Irresistible is a definite standout track. Hands-down my favorite single from that album and one of my favorite songs from the band. Like I said, having Demi Lovato in the song really did help and sure enough, it was a massive hit on Hits 1 peaking at #3.
7. Adele
– Hello
This may shock some people considering that after a couple months of Hello, I was beyond sick of it. But it really didn't take long for this song to come back around to me. At very first listen, Hello was a fantastic song and I totally see why it immediately went #1 on the charts in almost every country. Of course it got very overplayed and I got sick of it in no time. But thankfully, I've been enjoying it again and because of how fantastic the song was at first and how fantastic it is now, I decided to rank somewhere in the Top 10 of my Top 45 of 2016. As of right now, Hello is still my favorite single from 25. It's an amazing song that really shows off her vocal abilities. The song starts off nice and slow with a calm first verse. But then we reach the chorus and Adele just surprises us with this powerful "Hello from the other side". My favorite part of the song? The last chorus. It is just incredible. Adele has such a great voice and Hello will always be the song that really shows it off the best. Maybe Someone Like You too, but mostly Hello. The lyrical content on this track is just excellent. Adele is an amazing songwriter. Other than the fact that this song was heavily overplayed, there is absolutely nothing bad about this song. In my opinion, this is a piano ballad at its best.
6. Justin Bieber
– Love Yourself
For the second year in a row, Justin Bieber has landed himself the #6 on my Top 45 of the year. 2016 was obviously a big year for Justin Bieber as Sorry and Love Yourself became massive hits and landed themselves at #'s 2 and 1, respectively, on Billboard's Hot 100 of 2016. And while Love Yourself was Billboard's #1 song of the year and peaked at #1 on the Hot 100, it was #39 on Hits 1's Top 45 of the year and it peaked at #5 on the Weekend Countdown. Something's a little off here if you ask me. But anyway, I really enjoyed Love Yourself. While Sorry was this dance-pop jam that people were probably getting down to at the club, Love Yourself is a much calmer, more acoustic type song. In fact it's acoustic in which the only instrumentation on the song is an electric guitar and some trumpets after the second chorus. Justin Bieber co-wrote the song with Ed Sheeran, which makes a lot of sense because it does have this Ed Sheeran kind of vibe to it. He even gives some backup vocals. If you listen closely to certain areas of the song behind Justin Bieber's voice, you can hear some Ed Sheeran in there. I do like the song's lyrical content as well with my favorite lyric possibly being "My mama don't like you and she likes everyone." If someone that likes everyone dislikes you, there is a serious issue that you need to fix. I think Bieber did a nice job vocally. His voice is very calm and smooth all throughout the song. Ultimately, it's a really good song. I can understand why some may consider this song to be boring. But I really enjoy it. Justin Bieber is maturing a lot and I'm glad to see more people coming around to his music.
5. P!nk
– Just Like Fire
Before Just Like Fire was released, P!nk had left us with The Truth About Love, which included hits like Blow Me (One Last Kiss), Try, and the #1 single Just Give Me A Reason, all of which were very good in their own ways. Of course this was back in 2013. So it was a while until we got some new music from her. Then this year she released Just Like Fire and at first listen, I absolutely loved the song. The verses flow very nicely. I love that pre-chorus and the actual chorus is just amazing. I love the way she sings "No one can be just like me anyway!" As soon as I finished that first listen, I knew that P!nk had a big hit coming. Just Like Fire ended up peaking at #2 on the Weekend Countdown and #10 on the Billboard Hot 100. I would've loved to see this as a #1 song, but I know not everyone loved this song as much as I did. And I never did get sick of this song. I would say that Just Like Fire is up there as one of P!nk's best songs alongside songs like So What, F**kin' Perfect, Just Give Me A Reason, etc. I love the vocal work and production from beginning to end. Overall, it's just a very enjoyable song that I'm glad had a good amount of success. With this song and being featured in Setting The World On Fire by Kenny Chesney, I would say this year was a good year for P!nk music-wise. I also heard about how she recently gave birth to her second baby. So I'm very happy for her.
4. 5 Seconds Of Summer
– Jet Black Heart
Easily the best single from 5 Seconds of Summer. Girls Talk Boys is NOTHING compared to this masterpiece of a song. This song is also nothing like She Looks So Perfect or She's Kinda Hot. It's a special 5SOS song. First off, the vocals on this song are fantastic. I don't know which member they had do the vocals on this verses of this track, but whoever they picked, they have to have him take the lead on more songs because his voice is amazing. The instrumentation on this track is amazing as well. I absolutely love the chorus. I think it sounds fantastic. I really like the production. I really like the lyrical content. The music video is really nice as it's pretty much about their fans. But I think the main thing that carried this song all the way up to #4 of 2016 (besides it being a fantastic song) is the fact that it's not like the songs 5 Seconds of Summer is best known for. She Looks So Perfect and She's Kinda Hot both were catchy, but had relatively weak lyrics. Jet Black Heart, on the other hand, has a different message behind it. It's a much darker and deeper song much like Amnesia. Only difference is that Jet Black Heart manages to step it up a notch. From what I'm interpreting, it's about the special people in their lives and how even though they may be an ass sometimes, there are reasons why they're meant to be together. It is a sweet song lyrically and they managed to execute it in a cool way that isn't slow and acoustic like Amnesia, but a lot more alternative pop rock, which is pretty much what they are. So with all that it is definitely one of the best songs of 2016 and 5SOS's best song as of right now.
3. Ellie Goulding
– Something In The Way You Move
Pop masterpiece by Ellie Goulding. She is one of those pop singers that has never disappointed me with her music. Ever since Lights became this massive hit, she has released really good singles from that point forward. Even Anything Could Happen, which pretty much flopped unfortunately, was a really good song. Now for the second year in a row, she has landed herself a Top 5 song of the year. Last year she had Love Me Like You Do, which was a phenomenal song that I could've and probably should've ranked higher than #5. It could've very easily been the best song of 2015 had I thought my decisions through a lot more. But unfortunately, I can't change it at this point. However, I could still choose where to rank Ellie Goulding's 2016 music. So here at #3 is her best single of the year, Something In The Way You Move. On My Mind was very close to making it on to this list, but unfortunately it just did not make the cut and I thought that since Something In The Way You Move would be somewhere high on this list, it wouldn't be the end of the world to simply recognize On My Mind as an honorable mention. Like I said, I've always enjoyed Ellie Goulding's music and I think she's very talented. I love her voice and I think she sounds really good all throughout Something In The Way You Move. The verses are really good and I love that pre-chorus that starts with the line "But tonight I'm gonna lose it all." I really love that part and I think it's the perfect build-up to that awesome chorus. It's a very fun electropop song that you can move to to sum it all up. It's very unfortunate that this wasn't as successful as On My Mind because while On My Mind was very good, this one stood out as superior in my opinion. But like I said, Ellie Goulding never disappoints and I always love hearing new music from her. It's a shame that Still Falling For You never became a hit.
We have officially reached the Top 2. These two songs were songs that were just fantastic all throughout 2016. I did think long and hard about these two because frankly, either of them could've been #1. But after all that thinking, I have made my decision. So here are my Top 2 songs of 2016 starting with #2.
2. Mike Posner/SeeB
– I Took A Pill In Ibiza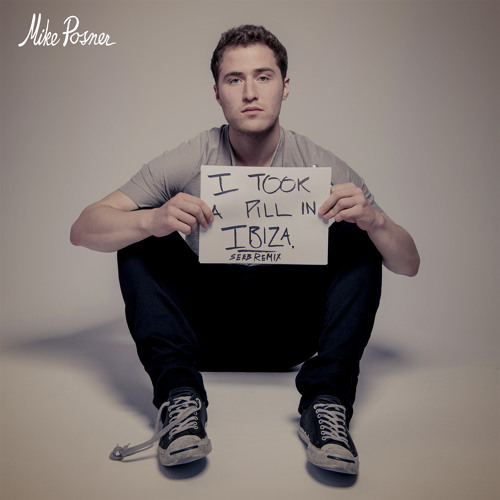 Who would've thought that Mike Posner would just come back into the music industry after a long of time of no solo music and release the #2 song of 2016? Quite a few people disliked his 2010 hit, Cooler Than Me (even though I liked that song). Even when I Took A Pill In Ibiza was still kind of new, I didn't really know if it was as good as Cooler Than Me. But man has this song grown on me. The writing on this song is amazing, mainly because it's a true story. Mike Posner did in fact take a pill in Ibiza. First off, I'd like to point out that everything I have to say about this song applies to the SeeB remix, which was the more successful and much better version of the song. Not to say that the original is necessarily bad. It still has that amazing songwriting. But it just feels a little bit more bland and for whatever reason, I feel the emotion much better with the remix. The remix adds in this darker and deeper vibe that kind of spreads the emotion more and you can start to feel what Posner is singing about. Like I said, he did actually take a pill in Ibiza. He was with Avicii at one of his concerts and Posner was kind of moving back and forth between the audience and the backstage VIP area. And most people didn't recognize him or know who he was except for this one guy who offered him a bag of pills. Posner accepted and the story behind I Took a Pill In Ibiza was born. The lyrics really do discuss these dark times he's been through like being this forgotten pop singer because I doubt a lot of people actually remembered this dude before this song came out. Even after being featured on L.A. Story by Sammy Adams from 2013, despite it being a catchy song, he was easily forgotten again. Sure, he helped co-write hits like Justin Bieber
– Boyfriend
, Maroon 5
– Sugar
, and Labrinth/Emeli Sandé
– Beneath Your Beautiful
. But most people didn't even know it was him. So that's kind of what the song is about. It's a very deep song that I think worked nicely for Mike Posner, at least with the remix. His vocals sound really good and I think the chorus is a great build-up to that drop. Kudos to SeeB for making this song not only more emotional, but also something you can dance to. This song was very successful worldwide and it was a #1 song on the Hits 1 Weekend Countdown, so that was awesome because it's a phenomenal song. I think people deserve to know Mike Posner's story. It's certainly an interesting one and I'm pretty sure in years to come, there's a good chance I may remember Mike Posner as the artist that wrote one of the best songs of 2016.
1. Coldplay/Beyoncé
– Hymn For The Weekend
The very first time I listened to this song was also the first time I watched the music video. I remember Coldplay promoting this song right before their big performance at the Super Bowl halftime show. By the end of that first listen, I came to the conclusion that the song is phenomenal. For those that are unaware, Coldplay is my favorite band of all time. So I have relatively high expectations when they release new music. Adventure of a Lifetime definitely met those expectations. But Hymn For The Weekend exceeded them by a long shot. It is an incredible track that I'm sure a lot of people knew would be my #1 pick of 2016. It opens up with these beautiful sounds of nature with birds and all that. Then Beyoncé comes in for the first 30 or so seconds and that part is already mesmerizing. The piano work all throughout this song is fantastic and if you still didn't think Chris Martin was a good piano player after The Scientist and Clocks, this song shows his excellent piano skills. We get amazing vocals from Chris Martin during the first verse and Beyoncé soon joins him. The chorus is just incredible with mesmerizing vocals. I love Beyoncé's mini solo after the second chorus, which is then followed by my favorite part of the song. Then Beyoncé closes out the song by singing the last few lines in such a magical way. Coldplay wanted their new album, A Head Full Of Dreams, to be something colorful and uplifting and I believe that Hymn For The Weekend is exactly that. It has that colorful vibe to it that just makes the song irresistible. Chris Martin and Beyoncé harmonize very nicely. And if I'm being honest, I never thought I'd write Beyoncé's name in my Top 45 of the year countdown, let alone #1. But her voice is just beautiful in this song and it reminds me that while a good chunk of her music may be a little shitty, she is a talented individual. Like with I Took A Pill In Ibiza, SeeB did remix this song and by doing so, they did omit some parts that I really enjoy. But they did pace it a lot faster. If I'm being honest the SeeB remix is good, but it is nowhere near as amazing as the original version. This song was very successful on Hits 1 peaking at #4, which I think is amazing. Overall, this song is a whole lot of fun. The vocals and production are just incredible. I was very glad to see this song have some success. I've been enjoying it for almost a year now, so it's safe to say that I'll never get sick of it. And just like that, Coldplay, my favorite band, have achieved the honor of having the #1 song of 2016 as decided by me, your favorite blogger and music reviewer (jk lol).
Phew! I have finally finished it! My Top 45 Songs of 2016! This was certainly a very long post as I had a lot to say unlike previous years. Those of you that actually read the whole thing, you guys are amazing because I did spend days on this and I really put my heart into it. So thank you. I know almost everyone saw the #1 coming like every year. One year I'll surprise you guys, maybe. :)
Feel free to comment what you thought and your opinions on this list. Keep in mind that this was entirely my opinion as these were my favorite songs of the year. I hope you guys enjoy the rest of your New Year's Eve and before you know it, the crazy year that has been 2016 will be over and we can move on. I certainly look forward to what 2017 will bring us. As far as future posts, I do plan to post my reviews for Hits 1's Year-End countdown as well as Billboard's Year-End Hot 100. Those will come sometime next week as I'm still off next week. But like I said, thank you for reading. This is my official last post of 2016 and I can't wait to see what next year brings us. So with that, goodbye 2016 and hello 2017! Happy New Year everyone! :)